Navindu Pahasara, the 15-year old boy who hit seven consecutive sixes during the final of Murali Goodness Cup, has become a sensation in world Cricket. Almost all the media groups worldwide have published the news of Pahasara heroics and hailed him as the New 'Wonder Boy' of Sri Lanka Cricket. Particularly in India, every single media group has given utmost importance to the incredible record of Pahasara.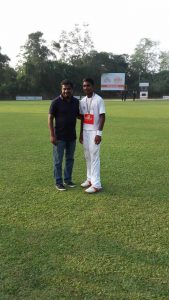 More pleasantly, Even the Electronic Media Gaints Like Star group and India today group also gave maximum coverage to Pahasara. Star group is the biggest media group in entire world, while India Today group is the leader of Indian media industry : both in print and electronic.
In the final of Murali Goodness Cup, played at Hikkaduwa Sri Sumangala MCC Lords on Saturday December 9, Pahasara showcased his enormous Six hitting abilities in front of the Legend himself : Muttiah Muralitharan. Mesmerized by his Towering sixes, The Legend Murali praised him and gave blessings for his bright Cricketing future. He smashed seven consecutive sixes in one over, which included a no ball. This is most probably a world record at any level in Cricket history.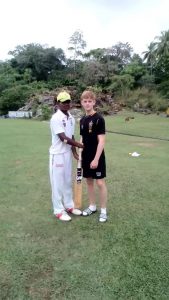 Cricket Age did a Chit Chat with the young batting prodigy. Here are the Excerpts :
Family Background?
Mother – Hosewife
Father – Employed in the Tourist Industry as a Russian speaking Guide Lecturer.
Elder Brother – Out of school following a course in Hotel management.
Younger Sister – Just five in the Nursery.
When you started playing cricket?
In 2012, when I was 10 year old.
Who identified your talent as a batsman?
My Coach Anjula Mendis(who is also a coach at the Foundation of Goodness). at his School Revata College-Balapitiya. Then Deepal Nilantha.
About School cricket journey?
I Started playing in the U13's and U15's and have represented the senior U19 side already at 15.
preferred batting position?
I used to bat at number three and always prefers to bat at the top of the order.
Dream as a cricketer?
To play for Sri Lanka some day.
Cricket Idol?
Former Sri Lanka Opening Batsman and Captain Tillekeratne Dilshan is my all time favorite cricketer.
Most memorable day so far?
Playing in the Murali Goodness Cup Finals 2017 and hitting seven consecutive sixers on 09th Dec at the Hikkaduwa MCC Lords Ground.
The person who shaped you as a cricketer?
My Coach Anjula Mendis. He is the one who believed in my abilities and backed me to go for my goals.
Preferred format?
I loves the 50 over format most.