Virat Kohli led team India is on the brink of creating history in South African soil, but their dashing opener is struggling big time for the runs.
Rohit Sharma has found a new nemesis in the form of Kagiso Rabada. This was after the South African seamer dismissed the India opener for the sixth time in the ongoing ODI series at New Wanderers Stadium, Johannesburg. After a phenomenal season in 2017, the current year has not begun according to plan for the right-hander as he has been out of form in the South African tour. Sharma's struggles in the rainbow nation are not new. If we cast our mind back to the 2013 series, the Indian opener had struggled even then. Five years ago, Sharma could only rack up 37 runs in 2 innings at an average of 18.50 in the ODI series. In Tests, he played four innings and scored 45 at an average of 11.25. In 2018, not much has changed except that Rabada has made Rohit Sharma his bunny.
It all began in the first Test at Cape Town where Rabada dismissed Sharma for 11. In the second Test, Rabada once again found Rohit's number and scalped him in both the innings. In the ODIs, Rabada went on to dismiss Rohit in all the three one-day internationals (including two caught behinds) before getting him out caught and bowled for five on Saturday.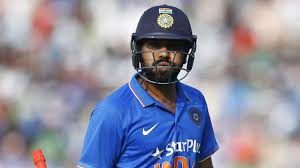 With 40 runs in four matches so far and a miserable average of 10 in the ODI series, Rohit Sharma will be under scrutiny for his poor performance. But what must concern the Indian think tank is his repeated failures against the number one bowler in ODI cricket. While playing rash shots has been one problem, another issue is his temperament, which continues to betray him.
So, is there any issue with his technique that he is failing constantly?
Former South African captain Kepler Wessels feels the same. The 60-year-old talked about Rohit Sharma's bad form, and highlighted the fact that he will continue to struggle in South Africa due to his footwork.
"He will always struggle to score runs in SA because of his footwork. He plants his front foot across to the off-side and in SA, the pitches always seam and bounce a bit. This is the reason that he averages around 10 there," the former batsman said.
Team India is looking a formidable unit, gearing up to the World Cup. However, Rohit Sharma's struggle outside Asia is the only weak link in the team!