Dayasiri Jayasekara, the sports minister of Sri Lanka, has decided to resign from his post after the unexpected defeat in recently general election, Cricket Age reliably learns.
After the results of Local election on Saturday, the political scenario of Sri Lanka has changed completely. Country's President Maithripala's party fared poorly and people have given a clear mandate to Former President Mahinda Rajapakshe's Party.
According to sources, Dayasiri, a close associate of President Maithripala, Couldn't save his own seat and that's why he has decided to resign as Sports Minister. Even though this was just a Local Election, but the rejection from the public has put lot of pressure on the president to take some harsh decision, in order to convey the message that now they are determined to get their act together.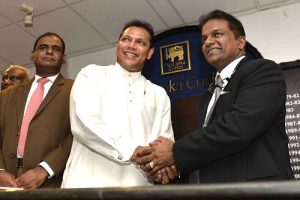 Dayasiri tenure will be remembered as one of the strangest in Sri Lanka history. Especially, his over-interest in cricket raised many eyebrows over the years. He was labeled as the closest associate and a supporter of Sri Lanka Cricket Board President Thilanga Sumathipala. There have even been reservations about him that he acts like a 'Cricket Minister' instead of being 'Sports Minister'.
During the India tour of Sri Lanka in August last year, he engaged in war of words with Iconic Sri Lanka fast bowler Lasith Malinga over the certain loopholes of SLC. Interestingly, after that the slinga Malinga hasn't played for Sri Lanka in any form of the game and now he is mulling over the retirement!