When Selectors announced team India t20 squad against Australia recently, the cricket fans were surprised to see the name of fast bowler Ashish Nehra. His inclusion in the 15-man squad surprised many, mostly because he is on the wrong end of his 30s and the next World T20 is a good three years away.
However, team India's former swashbuckling opener Virender Sehwag, later, made it clear that Nehra deserves a place in the shortest format of the game more than anyone, just because of his work ethic and high standard over fitness.
Sehwag and Nehra played all their first class cricket for Delhi, so it's obvious that they knows each other's strength very well.
"I was not at all surprised with Nehra's selection in the T20I team against Australia. I am very happy that he is a part of the team and I want him to play more matches in future," Sehwag told.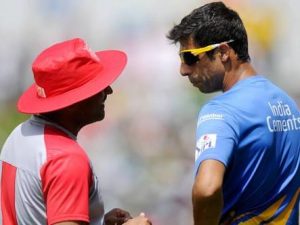 "The secret behind Nehra's fitness is when is not playing international cricket, he spends almost 8 hours in the gym, two sessions of 4 hours each. And if today he is a part of the T20 team, it is because he has passed the 'yo-yo' test. He scored almost 17-18 in the yo-yo test, touching Virat Kohli's score," he said.
"Nehra is a fast bowler and never faces any issues while running. So, he doesn't endure much problems in clearing the "yo-yo" test. Nehra likes to stay fit and spend time in the gym" Sehwag added.
"It is not that he is doing it forcefully. He likes to run, swim and I think he would have easily covered the distance of 20 meters in the yo-yo test. He has also an advantage of his height. He is over six feet tall and has a long stride," he further added.