Former Sri Lanka national team managers Michael De Zoysa and Charith Senanayake Wednesday raised several questions over the functioning of the Anti Corruption Unit (ACU) of International Cricket Council (ICC) in its ongoing so called investigation in the Island.
In last one week, Cricket Age had published how ACU is not responding former Sri Lanka player and A team coach Avishka Gunawardene's Email's since last few months after charging him on two counts under Emirates Cricket Council (ECB) on May 12.
Cricket Age had also revealed that in desperation to justify their ongoing investigation in Sri Lanka's, ACU officials were going in and around of former Sri Lanka allrounder Sachitra Senanayake IN order to convince him to be one of their witness.
Later, one of the Sri Lanka Cricket stalwart and former national team manager Michael De Zoysa came forward in support of Sachitra Senanayake and questioned the logic of ACU officials to interrogate off spinner's like a criminal.
On Wednesday, Another former player and Sri Lanka team manager Charith Senanayake also came forward in support of Avishka Gunawardene and Sachitra Senanayake, as he, along with Michael De Zoysa and Avishka's lawyer exposed ACU officials in a press conference at prestigious Sinhalese Sports Club (SSC).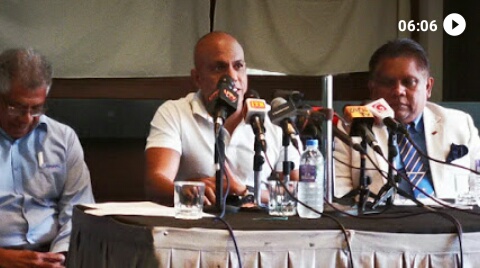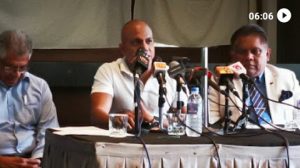 In the press conference, Michael De Zoysa explained how ACU officials unethically bullied Sachitra Senanayake, that too without giving any proper reason of their so called investigation.
"I was there at Colombo Oval ground, when they took Sachitra. They immediately took his mobile phones and didn't allow him to talk to his wife even. Later, they took him to one hotel where they interrogated him further, even without bothering to inform him why he was being questioned" said Michael.
On Avishka Gunawardene, Michael De Zoysa rated him as the best available option in Sri Lanka to coach national team.
"We sent him to Australia as batting Coach and he has done exceptionally well with A team and Emerging team. He is the best person to become Sri Lanka national team coach and whatever is happening with him from ACU, is totally out of context" he added further.
Charith Senanayake, meanwhile, raised questions over ACU functioning.
"The entire functioning of ACU officials is questionable. Even the country's police had no right to search any citizen's home and take his personal belongings with a court order. Here, ACU officials are interrogating the players on their will and making a mockery of all fundamental human rights of players" said Senanayake.
Further, he raised the questions why ACU is looking for the evidences after charging the players and he hopes that more players will come forward and speak how they were treated like criminals.
"First they charged players, now they are searching for evidences. And it's not happened only with Avishka and Sachitra. There are more players, Who suffered ACU officials trauma and I hope that will also come forward" he added further.
Avishka's counsel Chrishmal Warnasuriya, on the other hand, spoke about ACU officials unprofessional behavior in taking forward the hearing, even after more than three months.
The main questions raised by Avishka's lawyer were:
-Charges were based on incident happened in Sharjah on 14t of December.
-ICC charged on behalf of Emirates Cricket Board as 'agent'.
-No document of the contract between ICC and ECB was submitted.
-T-10 league owned by private owner Shaji-Ul-Mulk.
-T-10 league was not sanctioned in the year 2017.
-League does not come under ECB Code or ICC code.
In addition Avishka's lawyer asked for some more documents, like:
-Contract between SLC and ECB regarding T-10 league held in Sharjah in 2017.
-Contracts between players/coaches and ECB/ICC (as agent).
-Any agreement binding SL players to ECB code or ICC code for this league.
-Documents proving ICC was appointed to be agent of ECB with regards to the league.
-Sports Minister's approval of 'Team Sri Lanka' to participate in the league.
-Documents proving T-10 league was sanctioned by ECB in 2017.
-Documents showing T-10 league was part of Future Tour Programme's of SLC.
"In last three and half months, ICC has not provided a single document to Avishka, even after many promises. Even though, the concerned ICC officials promised Avishka many times to provide the documents, nothing has been sent till date" Avishka's lawyer added further.
It is noteworthy that the ICC is that much reluctant to disclose it's agreement with ECB, in regards to said T-10 league, it raises several questions.