Ever since Cricket Age exposed the million dollars fraud attempt by a Sri Lanka Cricket Board (SLC) employee on Monday, September 10, it has become the most talked about controversy in the cricket fraternity. Every single day Cricket Age is publishing new facts about the attempted fraud. Now, in the latest development, Cricket Age reliably learns that the attempted fraud was not of only 5.5 million dollars as SLC is pretending by saying lie, instead it is a attempted fraud of 11.1 million dollars. Moreover, not just one, but three SLC officials were involved in this attempted fraud!
Cricket Age has the access of the document, that was sent by SLC Finance division to SONY on September 4th, and it shows that three employees were involved in this attempted fraud. The resolution has been prepared, checked and approved by three different employees of the SLC!
In the resolution, it has been stated that the total amount is USD 11,128,809 and it should have deposited in Hongkong account, as SLC has having some internal issue.
The Resolution States :
"Payment authorization letter
Sequel to the meeting held with the board member of Sri Lanka Cricket dated 09.04.2018, on issues bordering on our accounts being placed on no debit by Sri Lanka tax regulator board and other internal issue we are currently witnessing, which makes it quite difficult for us to be able to access or receive payment in Sri Lanka, until when the issue will be resolved revised invoice.
The board members of our institution has made a resolution for you to take this as our authorization to make payment for the England tour as sequentially arranged and the pending payment of USD187,084,75, through our Asia associated bank account details in Hongkong, who has served as our intermediary for over 10 years in many financial issues, as detailed in the mail trail below and as also contained in the attached
The upcoming England tour payment plan is scheduled below, along with our partner account details with Hongkong bank.
1st payment USD 5,564,404.50, due by 10th September 2018 (50% of USD 11,128,809)
2nd payment USD 3,895,083.15 due 10th October (35%)
3rd Payment USD 1,669,321.35 due 20th November (15%)
Please, be advised henceforth, subsequent payments should be made through this channel Al agreed by our board member until the issue is resolved.
Payment Details :
Bank : Bangseng Bank Hongkong
Account Name : FANY SILU CO. LIMITED
Account Number : 788-796894-883
Swift Code : HASEHKHH
Beneficiaries Address : 5 Matheson Street, 39/F, SHELL TOWER, TIMES SQUARE, HONGKONG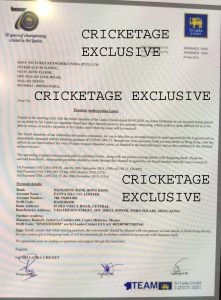 The most shocking fact in these attempted fraud is that SLC members were aware about the happening, as they met on this issue on 9.4.2018, as per the resolution.
It is noteworthy that the attempted fraud the employees of Sri Lanka Cricket Board (SLC) has become one of the most talked about issue in cricket fraternity. Though, SLC is trying to sweep it under carpet by giving lame excuses like email hacking, the truth is that this fraud attempt is a result of incompetent finance division. And, former SLC President Thilanga Sumathipala led administration played a major role in deliberately weakening finance division by bringing their favourites, who were not only incompetence, but were unqualified as well.
According to sources, past SLC committee's had recruited some of the top most qualified chartered accountants for the finance division. Chandramali Korale, Daksha and Sudesh were some of the most qualified, honest and transparent accountants, were recruited by previous committees.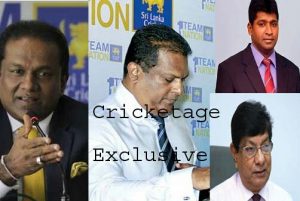 However, after Sumathipala led administration took over in 2015, they started a campaign to remover these qualified employees.
It was a well planned conspiracy by Sumathipala, then treasurer Shammi Silva and Chairman of finance division Mohammed Nuski.
Especially, Korale was the most respected, transparent qualified chartered accountant, even then Sumathipala, Shammi Silva and Nuski Mohammed removed her by not renewing her contract and brought one of their favourite in her place, who is now suspected as main culprit of this 11.1 million dollars fraud attempt. SLC early revenue is approximately 20 Million Rupees, so it needs qualified and competent chartered accountant. However, on the behalf of Sumathipala, his close friend and former Sports Minister Dayasiri Jayasekara changed the SLC clause and permitted for a normal accountant. It was shockingly, because Shammi Silva was himself not a qualified accountant and doesn't know anything about the accounting.
Not only Korale, Sumathipala, Shammi Silva and Nuski Mohammed deliberately removed other qualified employees from the finance division as well, like Daksha and Sudesh. Daksha is the wife of SLC international cricket manager Chandima Mapatuna, even then Sumathipala and Co. Got rid of her, as she was not fitting to their scheme of things!
Most shockingly, by removing them, Sumathipala and Co brought their favourites, who all are now suspected in this 11.1 million dollars attempted fraud!