Sri Lanka former captain Mahela Jayawardene, on Friday, expressed his disappointment over National selection committee decision to drop best t20 players like Chamara Kapugedera, Seekkuge Prasanna, Milinda Siriwardena from the local t20 league. Mahela further called for the appointment of the provincial selectors to avoid this kind of embarrassing scenario.
Staggering 84 players to participate in Sri Lanka Cricket Board (SLC) four team's local t20 league, however neither of these players could find a place in any of the squad.
"SLC T20 League – Experienced T20 players Chamara Kapugedera, Seekuge Prasanna, Dilshan Munaweera, Sachitra Senanayake, Milinda Siriwardana & Nuwan Kulasekara among the players who doesn't find a place in Sri Lanka's top 84 T20 players selected #Cricket" BBC Sinhala Correspondent Azzam Ameen wrote on his twitter handle.
"Very tough to understand the policy…this is what happens when national selectors select provincial teams. That's why you need provincial selectors on a different structure. You need experience players for the youngsters to learn" Jayawardene expressed his disappointment while commenting on Azzam Tweet.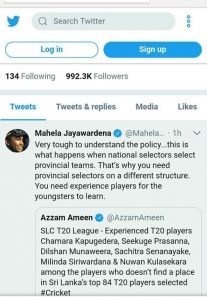 Just last year, Kapugedera had captained Sri Lanka ODI Side in one of the match against touring India. Now, he is not amongst Sri Lanka's 84 top players! Agree that it's entirety Kapugedera's fault that he couldn't achieve greatness, even after being considered as one of the most gifted Sri Lanka player of modern era! However, at the age of 31, and with an unique ability to hit sixes on will, Kapugedera still is far better than many players whom Labrooy is fielding again and again in Sri Lanka's t20 side.
Siriwardena, meanwhile, has completely been ignored by Labrooy, as soon as he took over as Chief selector. Under Jayasuriya chairmanship, Siriwardena turned out a good allround prospect for Sri Lanka and showed enough talent for the shorter formats. After the departure of Jayasuriya, he lost his form, as Labrooy lost confidence on him!
Seekkuge Prasanna case is more curious. He is born to play t20 cricket, with his bowling, batting and fielding. He is a complete package for the shortest format of the game, with wicket taking ability with the ball and six hitting abilities with the bat. Unfortunately, he has also found himself out of the favour now, even for domestic t20 league.
Apart from these experience t20 players, Labrooy has once again ignored Sri Lanka's best U19 player Hasitha Boyagoda as well. Boyagoda case is the saddest chapter of Sri Lanka Cricket. He is the best U19 cricketer in the country, but has no place in Labrooy good book. Insiders says that continues ignorance of Boyagoda is nothing to do with Cricket. Labrooy has a personal anger against him as the Chief selector believes Boyagoda controversy during U19 world Cup earlier this year spoiled his credentials!
Selector on tour, Labrooy kept Boyagoda in bench for crucial group stage matches against Afghanistan and Pakistan in order to fit his favorite Santush Gunathilika into playing eleven. Later, when Boyagoda got a chance, he scored two hundreds, including U19 history's highest individual score, media questioned Labrooy's intentions. Till now, he hasn't forgotten that saga and is keep punishing Boyagoda. In that U19 world Cup in New Zealand, Prithvi Shaw also announced himself like Boyagoda. Just yesterday, Indian legend Sunil Gavaskar backed Shaw to play for Virat Kohli test side in England in remaining three matches. In Sri Lanka, Boyagoda has not found a place in local t20 league, where all his teammates Kamindu Mendis, Dhananjaya Lakshan, Ashen Perera is playing!
The reality is that Since smashing two hundreds in U19 world Cup, Boyagoda has given just one match in last eight months and that match was also washed out. He is just in his twenties now, but already has down and out. People's close to him told Cricket Age that he already started to believe that Labrooy has a personal grudge against him and it has become impossible for him to get a chance at any level. Sadly, Labrooy has not only destroying Boyagoda's chances at senior level, he has also created an atmosphere, where people's at SLC afraid to talk about Sri Lanka's best U19 player's future!