Graeme Labrooy led selection committee has become notorious for mysterious and influential selections. Unfortunately for Sri Lanka, not only Labrooy, his fellow selectors have also turned completely incompetent and clueless about their responsibilies.
In addition, Cricket Age, After an investigation that last for one month, learns that Labrooy and two of his fellow selectors : Gamini Wickramsinghe and Eric Upashantha are associated with selection committee only as part timers and are using Sri Lanka Cricket to promote their respective business.
Graeme Labrooy is an ICC match referee, is a well-known fact. Though, this is not his only involvement other than being the Chief selector of Sri Lanka. According to sources, Labrooy has been involved in Insurance field Since last fifteen years. Few years back, he was with Janshakti Insurance as a LIC agent. Later, he moved to Finlays insurance as a broker and now runs his own firm named Foresight Insurance Broker.
According to sources, Labrooy has become notorious for pressurizing employees at SLC and players to become his clients.
"He has completely dedicated to his Insurance job only and is using his Sri Lanka Chief selector post as a platform to promote his business" a top SLC Official told Cricket Age.
Just like Labrooy, Another selector Eric Upashantha is also involved in insurance. According to sources, he works for Fairfirst Insurance and handles accounts, so has no time for his selector job.
Gamini Wickramsinghe, meanwhile, is a full time paid employee of HNB bank and has no leave.
"He is misleading bank big time as well, by telling various kind of things to get leaves time to time" one of his fellow employee at HNB Told Cricket Age.
In this scenario, their appointment as the National selectors raises serious questions against Sri Lanka Cricket Board (SLC) former President Thilanga Sumathipala led administration. Labrooy replaced legendary Sanath Jayasuriya in August last year and even though he turned an epic failure in his first tenure, in May this year, days before departure, Sumathipala Led administration again appointed him as chief selector for another year. No wonder, his close associate Gamini Wickramsinghe was also reappointed for another year.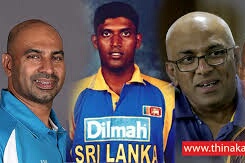 From the beginning, there were allegations against Labrooy that he is not committed as Sri Lanka Chief Selector. As he always prefers to select the team from the overseas and remains busy in his ICC duty, people's at Sri Lanka domestic cricket have given him a nickname 'Skype Selector'.
There is no surprise than that they have no time to watch the national team matches even, forget about the domestic and junior cricket matches.
"They never goes to see even national team matches. they don't even know the names of most of domestic players and completely clueless about U19 players. This is the saddest part of Sri Lanka Cricket" a former player, who has represented Sri Lanka in more than 100 ODIs, told Cricket Age.
Few days ago, Labrooy had selected a certain player named Nisala Tharaka, without knowing that at the same time he was playing for Sri Lanka A team in Bangladesh.
No surprise that their inability to involve with Sri Lanka Cricket is ruining the game in the Island big time!  Fortunately Sri Lanka has always blessed with plenty of young cricketers. However, the system need a dedicated selection committee to search talent around the country and to preserve them at every stage for the future.
"Part time selectors must not be involved with national level, since they always mix priorities. As your investigation proves, Gamini, Eric and Labrooy all of them do work and have very little time to work with selection" he added further.
In addition, even if they manage some time for their selector job as well, they have no vision for the future. Just yesterday, Labrooy selected Sri Lanka national Team captain and world eighth ranked test batsman Dinesh Chandimal into an emerging squad! Sri Lanka's most consistent test batsman in last two years Dimuth Karunaratne has also been named into the emerging squad, even though he has 7th ranked test batsman in ICC rankings.
Before his embarrassing departure, Sumathipala was self-claiming that SLC has recorded highest profit in the history. Sadly, even then, he couldn't find full time selectors for national team. All he found was Labrooy, Gamini and Upashantha, who have invaded in Sri Lanka Cricket to promote their business!