Arjuna Ranatunga and Aravinda De Silva, two World Cup heroes, came together on Tuesday to reply the baseless allegations of Former Sri Lanka Cricket Board (SLC) President Thilanga Sumathipala about match-fixing. In a packed Press Conference at Petroleum Ministry, two legends not only denied all the allegations, but also blasted Sumathipala for falsely dragging their name without any proof or evidence.
"In 1994 itself, the ICC had conducted an inquiry on these baseless allegations and found nothing against us, so gave clean chit" Arjuna, who changed Sri Lanka Cricket forever after winning 1996 world cup, told media persons.
"After that, a Sri Lankan investigation by lawyer Desmond Fernando had also cleared both of us after Gupta failed to testify before the local inquiry" the world cup winning captain added.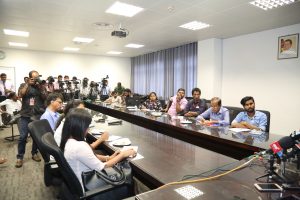 Ranatunga further blamed Sumathipala to bring disrepute to the game in the Island and accused him for being involved in suspicious activities.
"If we wanted to fix match and earn money, why 15000 Dollars, we could easily have earned 15 Million dollars, as we played a World Cup final and even won it for our motherland. We always played for the glory of the Sri Lanka, but Sumathipala, whose family business is betting, is making baseless allegations against us. Few days ago, this same Sumathipala went to Dambulla Stadium and inspected things like a SLC President. Next day, Sri Lanka lost that match" Arjuna added further.
Aravinda De Silva, on the other hand, raised questions over the intentions of Sumathipala to make this allegations at this particular time.
"Why did he appoint me to the Cricket Committee and even invited me to become his Vice President if I have an allegation like this" Aravinda De Silva on Thilanga Sumathipala's match fixing accusation.
Sumathipala on Sunday revived allegations of match fixing against Arjuna Ranatunga and Aravinda de Silva accusing them of being the first Sri Lankans to take bribes from bookies. Sumathipala in an unusual admission blamed himself for not taking action against the World Cup winning captain and his deputy who were implicated by a notorious Mumbai bookmaker known as Mukesh Kumar Gupta, better known as MK Gupta, in the late 1990s.