Those who thinks that After the departure of Thilanga Sumathipala led administration, Things are going in right way at Sri Lanka Cricket Board (SLC), needs to change their prospective. SLC has still be running by 'hidden forces' and the distribution of broadcasting rights for Sri Lanka U19 Team's Ongoing Series against India proves it. SLC has once again granted the broadcasting rights of Ongoing U19 Series and Upcoming Emerging Series against South Africa to Ravin Wickramaratne's brother-in-law, Cricket Age learns.
Ravin Wickramaratne, former SLC Assistant Secretary, was in the center of almost every single wrongdoing of Sumathipala's administration in last two year. He is the main culprit of Domestic match fixing scandal and misused SLC money on his every single 'so called' overseas trip.
Now, SLC has granted Ongoing U19 Series and upcoming Emerging Series rights to Sine Media International. Interestingly, the owner of the Sine Media Gihan Samaranayake is the brother-in-law of Ravin Wickramaratne.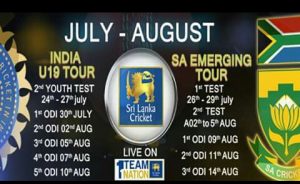 It is noteworthy that Ravin Wickramaratne was also the Pillar Head Of Media at SLC during Sumathipala Time. At that time itself, he brought his brother in law in to frame, and bagged broadcasting rights for him. Jerome Jayarathne, the COO of SLC played a big role in converted this as a 'family business' by giving rights to Sine Media.
Even though Ravin Wickramaratne is no more at the SLC, Jerome Jayarathne has made sure his brother-in-law gets all the broadcasting rights.
Few months ago, Ravin Wickramaratne summoned all the coaches of high performance center for 'free' commentatory for the Sine Media during Provincial tournament.