The day Lasith Malinga, one of the most iconic bowler in world cricket history, had a verbal fight with Sri Lanka Sports Minister Dayasiri Jayasekara in August last year during India series, it was almost confirmed that the Slinga Wouldn't play again.
"Look, it's not like that he paid the price to challenge Sports Minister. Instead, it's like you are exposing Your Own institution. Even If Malinga had that kind of information regarding Pitch tempering thing and all, he could have discussed it with the board, instead of saying it publicly" a top SLC official told Cricket Age.
Indeed, it was a fault of Malinga. He has been a outspoken personality, unlike many other's in Sri Lanka Cricket, who wants to play safe, wants to be in every side!
On that particular time, he committed a mistake, in order to try too much critical!
However, at the same time, A new Selection committee took place. Led by Graeme Labrooy, they became illogical from the first day itself, especially towards Malinga.
While Other selectors doesn't know anything about selection, Labrooy chose a safe path : in last few months Players like Sachith Pathirana, Chaturanga De Silva have mysteriously played for Sri Lanka, reason best known to Labrooy!
Now, Jeevan Mendis is in the team!
However, On Malinga, Labrooy has been misleading Sri Lanka from the first day. Malinga was playing in the BPL, when Selectors Summoned him to return before the UAE tour. A patriotic Malinga, who represented Sri Lanka with proud, happily returned. In returned, Labrooy and Co. ( there is no Co. Actually, as other selectors doesn't exit) Decided to 'rest' 34 year old Malinga!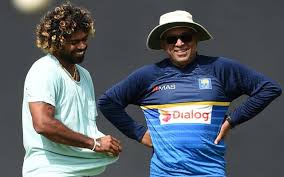 "If they pick me, I am ready, but the reason for why I haven't been picked, is what I am still waiting for" Malinga said at that time, questioning Labrooy and (?) intentions.
"Usually, it's a player who is 25 or 26 that needs to be rested, because they still have a lot of cricket left in them. But for someone or my age, there is really no purpose in being rested, as I can only play cricket for another one or two years anyway" Said Malinga.
The reality is that Everyone at SLC knew from August 2017 itself that Malinga won't play for Sri Lanka again!
"Two powerful ExCo members, who thinks that they are the Messiah of Sri Lanka cricket, we're laughing and telling everyone the same thing, when a determined Malinga went for practice before the Bangladesh series as a bet bowler" a source revealed to Cricket Age.
Now, he has himself decided to retire, sensing that the 'Messiah's' of Sri Lanka cricket won't let him play for his country again.
Surprisingly, as soon as Malinga announced his intention of mulling retirement few days ago, Labrooy resurfaced again, from nowhere.
Now, The ever clueless Chief selector is giving statement like that : If Malinga can prove his form in domestic cricket, we will still pick him."
Indeed, It looks a political statement!
When Malinga was determined to prove himself, Labrooy 'rested' him mysteriously. Now, When, Malinga has decided to give up, he is saying him to prove.
No doubt that Malinga, as a bowler, has passed his prime. But, he has played over 300 matches for Sri Lanka, not one or two matches here and there! He at least, deserves a better treatment.
It proves, Labrooy is trying to be another 'Messiah'. He is trying to convince Sri Lanka cricket fans that it's Malinga's fault that he can't prove his worth for Sri Lanka Team!
However, Labrooy is forgetting a simple thing. The 'Messiah's' of SLC abrupted Malinga's career with perfection. But look now, within few months, after LG elections, those Messiah's are struggling for their own survival. Nothing is permanent. Obviously, Labrooy and Co. (?) Will have the same fate, what they did with Malinga!