An underwhelming performance by Sri Lanka U19 side in the ongoing Youth World Cup in West Indies brutally exposed the deficiencies in Avishka Gunawardene's coaching methods. In the end, an clueless Avishka turned a white elephant for Sri Lanka Cricket, as his side could secure a disgraceful 6th play off place in the ICC event. The result was an exact opposite of the pre-tournament hype surrounding Avishka, where with influenced social media campaigns, he strategically projected  himself as lone savior of the game in the Island! On the other hand, legend Mahela Jayawardene, who joined the squad in the eleventh hour as Consultant, proved once again why he is rated as among top most coaches in world cricket, as he made an immediate impact on the team, even in a below par World Cup Campaign.
During the campaign, Avishka in almost every match committed tactical blunders, which proved fatal for the side. Against Afghanistan, wicket keeper batter Anjala Bandara was promoted at number 5, even when opposite side's fast bowlers were bowling well. Then, Yasiru Rodrigo was sent ahead of Captain Dunith Wellalage. Finally, Wellalage came to bat at number 8 and scored a valuable 34. However, his effort couldn't escape Sri Lanka, as multiple run outs and an insipid batting performance from the top order insured 4 run defeat against Afghanistan.
However, the biggest blunder was made at the toss itself, when Sri Lanka opted for fielding! Interestingly, right after his appointment as coach, Avishka kept saying that batting is the strong fort of his side.
"He himself was a batter and is considered a batting coach. Even then, team couldn't chase a total of 134. Questions must be asked – who's decision it was to bat second, who messed up the batting order" a Sri Lanka cricket expert told Cricket Age.
Notably, this was the second such blunder by Avishka in the span of few weeks. Just before the world cup, decision of batting first proved fatal in the final of the Asia Cup too, as Welalage led side was comprehensively thrashed by a superior India in the one sided final. In overcast conditions, where covers were removed just a hour before the toss and even Sri Lanka's openers were seen wearing sweaters, Avishka led coaching staff mysteriously instructed the captain to bat first after winning the toss. Overcast conditions tend to have a lot of moisture, air which helps the ball to move. Avishka and others mysteriously ignored weather conditions and it proved too much for their batters, as the team were bundled out for paltry 102 and lost the final.
And it's not about Avishka's tactical blunders only! His uninspiring coaching style also proved fatal for an otherwise good young side. It was observed during the campaign that Avishka gave very little attention to team meetings, long net sessions and analytical preparation against the opposition.
"He looked clueless and not up to the modern coaching standard. Only after Mahela's arrival, team started emphasizing more on these advance strategies" a team Insider told Cricket Age.
Though, these deficiencies were always in Avishka's coaching. At best, he is good at club level only. However, as he plays victim card with perfection, he managed to parachuted himself as U19 Coach, with Mahela's backing. That time, he was about to sue SLC, but changed his mind overnight after getting the job. However, with below par world campaign, his bubble has burst now, as Jehan Mubarak is almost certain to replace him, while Pathirana is also trying hard to become U19 Coach.
"Even Mahela has realized his limitations as a coach now. There were disagreements many times between them in West Indies. That's might be the reason he didn't push Avishka for national team's head coach position, which eventually went to far superior Naveed Nawaz, current U19 Coach of Bangladesh. And, it's good lesson for Avishka. It's called karma. When he was banned by the ICC Anti Corruption Unit (ACU), he pleaded to everyone – from Sri Lanka to India – for support. After his ban was lifted, he betrayed all those, not even called them once to show gratitude. Instead, he opted to went behind Mahela to get a coaching job" the cricket expert added.
To make things worse, there was also Sachith Pathirana with the side, as spin bowling coach. A spinner, who could never spin a ball in his entire career, is with Sri Lanka U19 side, only because his father Janaka is an ExCo member at Sri Lanka Cricket (SLC). In the middle of the tournament, Pathirana posted on social media (photo suggests he was drunken that time), claiming that god has sent Avishka to save Sri Lanka Cricket! More laughably, after World Cup disaster, he removed that post altogether!
"Pathirana is the real curse for Sri Lanka U19 side. First he ruined Hashan Tillakratne and now did the same with Avishka. There were other more experienced and well proven coaching members in the side, like fielding coach Upul Chandana and fast bowling coach Chamila Gamage. But Avishka is too much dependent on Sachith. And it played major role in his downfall" Team Insider added.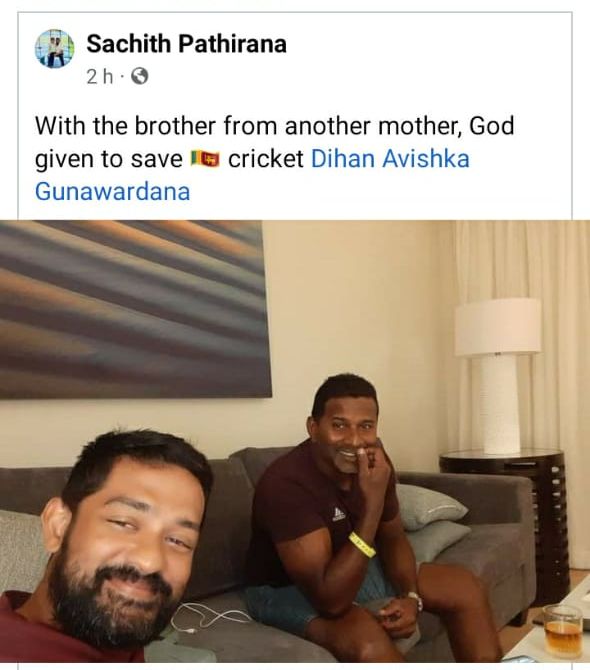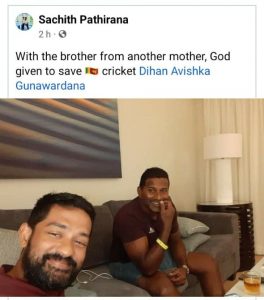 Mahela, meanwhile, proved a perfect consultant for U19 team! His focus on detailing of every aspect of the game helped young players immensely in overcoming of shortcomings and uplift their game.
"His presence was the best thing for the boys. He worked on each player separately and provided them technical assistance in helping them to understand their game" the team insider concluded.