For India, the T20 World Cup is all but over. Permutations and combinations going ahead might keep statisticians busy but India need a miracle to stay in contention. They first need to secure resounding victories in their remaining matches against Afghanistan, Scotland and Namibia — and hope that New Zealand slip badly against Afghanistan. But the insipid show was not because of the bowling unit that has now taken a grand total of two wickets in two games. This was a systemic failure. There were quite a few decisions that backfired. From a changed opening combination to poor shot selection, India were prisoners of confusion in the must-win game against New Zealand.
Their campaign taking another hit with a second successive defeat, India will need to win all their remaining matches while hoping that other results go their way to keep their semifinal prospects alive in the T20 World Cup.
India and New Zealand were locked in a virtual quarter-final, from which the latter emerged triumphant following a convincing eight-wicket win, seven days after Virat Kohli's men suffered a 10-wicket drubbing to arch-rivals Pakistan. Kohli's men would now pray that Afghanistan beat New Zealand and India win their remaining three fixtures against Scotland, Namibia and the Afghanistan.
The Indian batting line-up, boasting some of the best players in the IPL, flopped big time managing only eight fours and two sixes in their 20 overs against the Kiwis after being put into bat. Losing the toss was a big disadvantage as the dew would hamper the Indian bowlers, but there was no excuse for the shambolic batting display on a good wicket which left the bowlers with nothing much to fight for.
With K L Rahul struggling to replicate his form in the IPL, India seem to have no Plan B or a player they can fall back upon. There is a thin line between bravado and foolishness. And India's batsmen erred on the side of foolishness with their abject batting display against the Kiwis.
Most of the Indian batsmen were guilty of playing lofted shots in areas where New Zealand had their fielders. Whoever suggested dropping Rohit Sharma down the order deserves a lot of flak. To accomodate a rookie like Kishan, the Indian think-tank forced India's best batsman in limited overs cricket to drop down the order. Kishan thought he was playing at the small outfield of the Wankhede stadium as he took on the square boundary on the leg side, but holed out to the fielder in the deep. Rahul fell in similar fashion as he took the risk of playing the ball in the air despite knowing fully well that there was a fielder placed on the deep square leg boundary. On the slow pitch in Dubai, it was important to make most of the Powerplay, but India for the second game in a row struggled as they were reduced to a lowly 35/2 in six overs. Rohit, who was not opening the batting for only the third time in his T20I career, was dropped first ball but he could only manage 14. The frustration and pressure of the run rate got the better of Rohit as he fell to leg-spinner Ish Sodhi, once again hitting straight to the fielder at long-on instead of looking to get the ball in the gap.
Virat Kohli allowed the Kiwi spinners to build the pressure as he struggled to nine from 17 balls before he perished in his attempt to break the shackles. He top edged the slog sweep and was caught at long-on Sodhi. Astonishingly, Indian batsmen, some of whom who have taken apart some of the world's best bowlers in the IPL, struggled to hit even a single boundary in the middle overs. Rishabh Pant and Hardik Pandya, who hit sixes at will in the IPL, were struggling to get going as India saw 71 balls without a single boundary in the middle overs between the 7th and 15th over.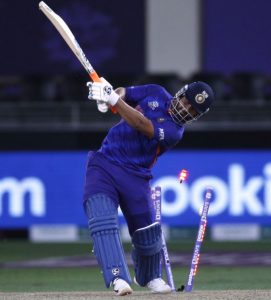 Kohli, though, blamed it on the team's attitude. "I don't think we were brave enough with bat or ball. Every time we took a chance, we lost a wicket. It's most often a result of hesitation of whether you should go for a shot or not… Didn't have much to defend but we weren't brave when we walked out to the field," he said after the match.
A team with a skipper, who personifies boldness, succumbed to timidity. Kohli admitted as much when he said: "When you play for India, there are loads of expectations. We are watched, people come to the stadium and everyone who plays for India needs to embrace that and cope with it. We haven't done that in these two games, and that's why we haven't won."
Between the sixth and sixteenth overs, India failed to hit a single four. Once again, Kohli got stuck against spin — his strike-rate against slow bowlers is 102 over the last one-and-a-half years.
The Pandya selection, too, came back to haunt India. After a long hiatus, and despite a serious question mark over his bowling fitness, the all-rounder rolled his arm over in a competitive game, looking pedestrian in the two overs he bowled. Stubbornness over the No. 4 batting position cost India the 2019, 50-over World Cup. The Pandya stand has forced India very close to the exit door here.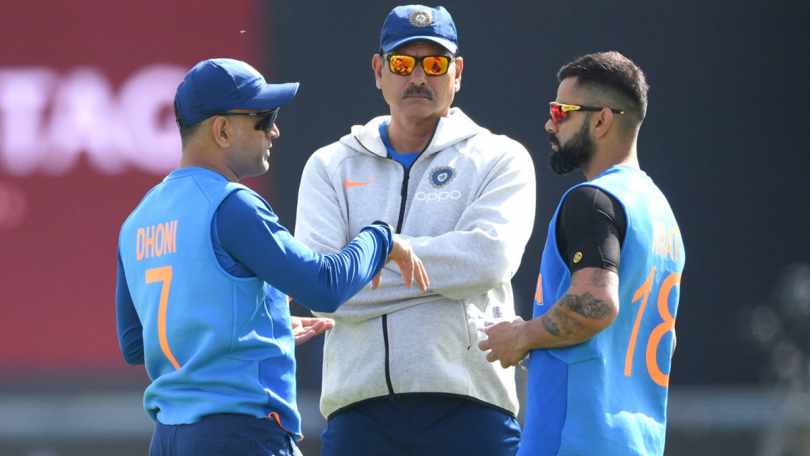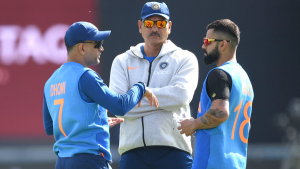 India's strategy of keeping wickets for a dash at the end has backfired big time. In both the games, India were unable to bounce back after losing early wickets. They have ended up batting far too slowly in the middle overs and their attacking shot percentage is the lowest among all the teams in the Super 12s stage, even lower than Namibia and Scotland.
'#IND have twice been rocked by early wickets but even then their underlying numbers make for very grim reading. No team has a lower attacking shot percentage than #IND & only #IRE, #PNG & #NED have a worse Timing Rating (a measure of quality of shot contact),' Freddie Wilde, the CricViz analyst, observed on Twitter.
'It is worth underlining that these are remarkable numbers. Despite showing the least intent of all 16 teams in this #T20WorldCup #IND have been in control for less than almost every team except three teams who crashed out in Round One (two of them without winning a single match).'
On the face of it, the Indian players came to this tournament battle-ready, on the heels of the IPL. Almost all the players in the squad were marquee signings for their respective IPL teams. And yet, a country that boasts the game's most high-profile T20 league fizzled at the World Cup. A team with a jumbo coaching staff couldn't get their planning right.
Also, It now has to be asked if M S Dhoni's induction as the team mentor was surplus to requirement and undermined Kohli's authority as captain. In the end, after two matches at the T20 World Cup, India are yet to open their account and their net run-rate is minus 1.60.
Who would have imagined India would be sitting even below Namibia in the points table after the first two games? Now, it won't be a surprise if Afghanistan's bowlers fancy their chances against this struggling Indian batting line-up.