Four top most dicision making authorities of Sri Lanka Cricket In cricketing matters at the moment – Mahela Jayawardene, Kumar Sangakkara, Muttiah Muralitharan and Tom Moody – have failed miserably to inspire their respective franchise to secure a place in the knockouts of the ongoing Indian Premier League (IPL) in UAE, in spite of holding important designations. Their teams are indeed in the top five in IPL points table, but from the bottom. In the hindsight, though, now all of them will get more time to uplift Sri Lanka Cricket, after their teams were eliminated from the IPL.
On 7th August 2020, Mahela Jayawardene woke up and suddenly found everything good with Sri Lanka Cricket. Prior to that, he was on the opinion that Sri Lanka Cricket lacks professionalism.
"I am still happy to contribute in my little way with the management of the team, but nothing to do with the SLC. That's something I have told myself as well. I just don't have the appetite to come and work for anybody when I know that it's not the right place for me" Mahela said before 2019 World Cup, when he was offered to play a role in Sri Lanka's campaign.
However, a change in government changed everything! Once Mahela was convinced, it was just matter of time for Sanga and Murali also to follow him. So as it was inevitable, soon all three of them became the flagbearers of Sri Lanka Cricket. Mahela occupied Sports Council Chairman post, while Sanga and Murali were brought into the Technical Advisory Committee. Now, how to bring Moody? So, another post was created – Director of Cricket!
So Now, all four of them are together to uplift the Sri Lanka Cricket!! Since then, Mahela and Sanga sits on the right and left of country's Sports Minister, Murali accompanies legendary Aravinda de Silva in technical committee and Moody is committed to (according to all these legends) make Sri Lanka Cricket a powerhouse once again!
Though, there is a small issue. All of them are associated with IPL also and that too at top posts – Mahela is the head coach of the Mumbai Indians, Sangakkara was earlier this year roped in as Rajasthan Royals director of cricket and Murali and Moody are with Sunrisers Hyderabad as spin bowling coach and director of Cricket respectively.
So, let's have a look how these flag bearers of Sri Lanka Cricket fared in this year's IPL:
Mahela for Mumbai Indians
This is the first time in three years that Mumbai Indians have failed to qualify for the Indian Premier League knockouts. They have won the title 5 times – 2013, 2015, 2017, 2019 & 2020 – and been eliminated from the playoffs four times including the runners-up finish in 2010. But they have also been knocked out in the league stage 4 times in the past in 2007, 2008, 2016 and 2018.
The biggest issue MI faced this season was the form of its Indian batting contingent as the likes of Rohit Sharma, Suryakumar Yadav, Ishan Kishan and Hardik Pandya which has led to their downfall this time. Rohit has got starts but has not been able to convert them, but it's the batsmen after him who have struggled big time in IPL 2021. Ishan (157 runs) is averaging just over 19 while Suryakumar (235) has done even worse at 18.07. All-rounder Hardik has played 11 games and managed just 117 runs at 14.62 while his older brother Krunal has has played a game more but averages the same with the bat. The MI bowlers, Rohit and all-rounder Kieron Pollard kept producing good performances individually throughout the season but they never clicked as a unit in IPL 2021, which is why the team struggled to register wins consistently throughout the season. Rohit and Jasprit Bumrah are the only two MI players present in the top-10 run-scorers and wicket-takers' lists this season. Rohit is the team's highest scorer with 363 runs while Bumrah has taken 19 wickets. Rahul Chahar (13 wickets), Trent Boult (12) and Pollard (232 runs & 5 wickets) have also been brilliant for MI. But this year they just didn't perform like the well-oiled unit that we are accustomed to seeing every year which is also the reason why the team crashed out in the league stage once again.
As a coach, Mahela was not as competent as he was in previous years. In addition, an uninspired and inconsistent batting performance from top batters proved fatal for the franchise!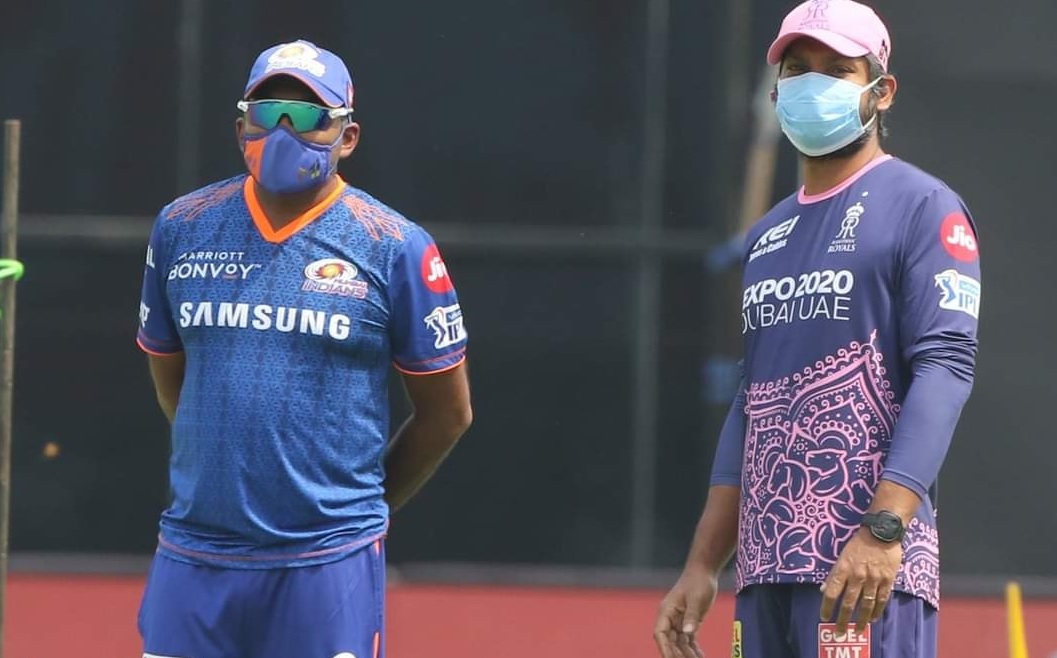 Sangakkara for Rajasthan Royals
Unlike Mahela, Sangakkara, as director of cricket, is fully responsible for Rajasthan Royals pathetic performance. For this season, the biggest mistake that Rajasthan Royals committed is to appoint him as director of cricket! How could you explain the appointment of Sangakkara for the top post despite his poor record as captain with the Deccan Chargers (Hyderabad) and Punjab? That Sanga has little or no coaching experience and the franchise went by his formidable reputation as a player (which of course most teams do as was the case with Jacques Kallis appointment with Kolkata Knight Riders or Simon Katich with Royal Challengers Bangalore) and no one from the franchise is yet to explain the sacking of the Australian Andrew McDonald who has made a reputation for himself as an excellent T20 coach.
With due respect to all his batting records, Sanga, even during his playing days, was never considered a shrewd tactician! Even now, as he sits in the left of his country's Sports Minister as a member of Sports Council (Mahela Jayawardene sits on the right side), his contribution is highly questionable! For Royals, which is famous for smart buying during IPL auctions, Sangakkara couldn't pick a single future investment player or an underdog as director of cricket. In his supervision, Royals decision to buy a bits and pieces player like Chris Morris for a whooping 16+ CR is amongst biggest jokes of the IPL history!
"He is a good speaker. Very very good actually. We still remembers his MCC Spirit of Cricket Lecture. But that's it. You can't expect from Sangakkara to be a tactician like his good friend and business partner Mahela Jayawardene. It was quite evident from the first day that Rajasthan Royals committed a big blunder. Now they have paid a heavy price for their decision" a Sri Lanka Cricket expert told Cricket Age. 
Murali and Moody for Sunrisers Hyderabad
The franchise had the biggest fall compared to the 2020 season, going from third place to the very bottom. They finished the 2021 edition with just three wins from 14 matches. Sunrisers just did not turn up. Even when the first leg started in India, they took as many as four matches to register their first win. They lost another three before the IPL was postponed, and then started the UAE leg with another two defeats. Only one win from their first nine games meant their season was virtually over well before it actually was.
The loss of form for David Warner and the unavailability of Jonny Bairstow in the UAE leg proved fatal for Sunrisers. Their batting line up was filled with test match players (blame goes to Moody for this), while Murali's presence couldn't inspire any of the young spinner to rise to the occasion! Both Murali and Moody have been associated with Sunrisers since years, but results are always below par!
Though, fortunately for Sri Lanka Cricket, all of them will be free to resume their commitments (off course at honorary capacity as they always emphasizes, exept for Moody), after fulfilling their IPL duties. Mahela and Sanga can sits along with country's Sports Minister few more time, Moody can visit Sri Lanka once more this year to fulfill his 100 days work criteria to claim his US$ 200,000 per annum salary. Murali can also give his expertise to Technical committee. Fortunately, all of them can think and act for Sri Lanka Cricket's benefit, before once again next year's IPL preparation begins!