In a pandemic year, it pushed back so many times, that even Sri Lanka's die hard cricket fan had started to calling it 'Lanka Postponed League (LPL).' In the end, however, a gritty Shammi Silva, along with an 'eager to prove himself' Ravin Wickramarathne, achieved a remarkable feat by successfully organizing the inaugural edition of Lanka Premier League (LPL). In the first edition itself, the LPL achieved it's main goal – to unearth new talent for Sri Lanka cricket. On this measurement, the SLC has scored a 'perfect 10' with the highly competitive T20 league.
Here are some milestones, achieved by the SLC during the LPL, which highlights the success of the inaugural edition:
Brought back smile on millions cricket fans faces
Organizing a global T20 league amid pandemic is itself a big achievement! During the two months of IPL, 1.2 billion Indians had forgotten the ongoing misery in their lives, due to a forced lockdown, fear of losing dear once and uncertain future. World's biggest cricket league brought back joy in their lives, inspired them to move forward and gave a ray of sunshine, amid the one of the darkest period of universe!
For Sri Lanka, LPL did the same magic!
While other South Asian countries like India, Pakistan and Bangladesh have probably passed it's COVID-19 peak, Sri Lanka seems to entered into dangerous territory, with the virus is fast becoming deadly now. In this national crisis, Sri Lanka needed something like LPL. Credit also goes to Sri Lanka's present Sports Minister Namal Rajapaksa for this positive turnaround. While his predecessors focused obliging ICC, Punchi Borella, Sports Star, in establishing ACU experimental laboratories in Colombo, Namal inspired Shammi Silva led administration to do something meaningful! And, by successfully organizing a global standard T20 tournament LPL, Mailtand Place, usually notorious for financial scams and transactions, surprised World cricket.
Unearthed New, young Talents for the future
Through IPL, world cricket saw the raw talent of K. Natrajan, all-round magic of Rahul Tewatia and calmness, class of Suryakumar Yadav.
LPL also, in its first edition itself, unearthed some exiting future prospects!
Wanindu Hasaranga, player of the tournament, emerged as world class all-rounder. His googlies tormented batsmen throughout the league. A hard-hitting batsman as well, though he couldn't get more opportunities with the bat, but whenever got chances, he batted with maturity. Potential and talent was always there in Wanindu. It needed a turnaround. LPL presented that chance to him and he grabbed it with both hands. Thanks to LPL, now Sri Lanka has an all-rounder, Who can be considered for all three formats!
Dhananjay Lakshan is another young player, who stamped his authority, like a king! He was marked as a future player in his U19 days itself. Around 2016, true servants of Sri Lanka cricket like Ranjith Madurusinghe and his colleagues in the junior selection committee, Roy Dias identified Lakshan and nurtured him for bigger things. Since those days, he was marked as a true all-rounder – who can bat at the top of the order and can open the bowling as well. Not an express, but swing was always the strength of Lakshan's bowling. In the LPL, he showcased both of his skills with perfection. His swing troubled top quality batsman and when needed, like semi final, he produced match winning knocks as well. As Angelo Mathews days are officially over as all-rounder and Thisara Perera, Dasun Shanaka are still considered as bits and pieces players, Lakshan must be fast tracked for the national duty.
Nuwan Thusara is another player, who impressed one and all. With a bowling action similar to Lasith Malinga, he had made a name for himself long time ago. However, probably he could not fulfill Sri Lanka's Chief selector Asantha De Mel's off field requirements, thus was never considered seriously! LPL gave him a chance to re-announce himself and he did it style. He has the pace, swing and skills to play for Sri Lanka and as Malinga has already unofficially retired, he must be groomed for bigger role.
Young players like Charith Asalanka and Avishka Fernando also shined in the LPL. Asalanka, coming from an injury, has been a run machine since U19 days. The LPL experience will definitely give him the required confidence to dream of playing in the national team. Avishka Fernando proved once again that he is the next big thing of Sri Lanka cricket!
Then there was a player like Vijayakanth Viyaskanth, who was completely unheard before the LPL. Coming from Jaffna, he played and mesmerized everyone with his talent. Though still raw, he can go a long way, if given chances properly.
Success of all these youngsters justified SLC courageous decision to go ahead with the LPL, amid all – external and internal – hurdles.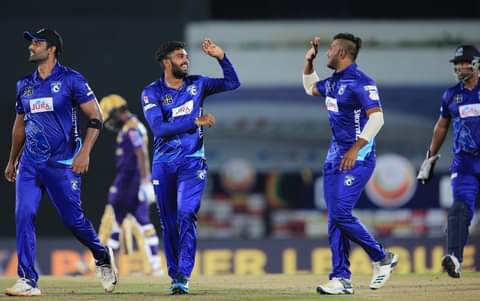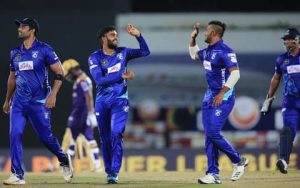 If they will be groomed properly and will be kept away from Asantha De Mel's biased, illogical selection criteria and a ever ready- to-use player manager Ravi De Silva (he has the tendency of knocking the doors of young, budding players, hijack them and eventually ruin their career by downgrading them as ordinary players, by shifting their focus in commercial aspects), all these young players have the ability to represent Sri Lanka in near future.
Laid the foundation for bigger editions
Even after plenty of last minute withdrawn from the big overseas players like Chris Gayle, Liam Plunket, Wahab Riyaz, SLC managed to bring players like Andre Russell, Brandon Taylor, Shahid Afridi. For sure, the success of first edition will attract many more big overseas players to play in the next editions.
Redefined SLC Own Image
Sri Lanka cricket has usually been a laughing stock in world cricket. There was a president, who eventually turned out a match fixer! There were at least dozen of suspicious foreign transactions, which were never investigated properly! There were never ending sagas, where Maitland Place loyals were given salary increments in the last hour of the tenure. There were few Interim committees members, who benefited only themselves, looted cricket money big time and now living a luxurious life, by wearing the fake mask of respected citizen, but in reality doing fraudulent activities ! There is still an old administrator, who has recently parachuted himself once again at Maitland Place to loot some more money, to support his floundering business!
All they did everything, but never thought, or planned to establish something like LPL.
Shammi Silva did it! How much financial gains was achieved through the LPL, only concerned people can verify. As for as the cricket is concerned, the LPL has announced itself big time at global stage. The success of LPL will certainly change cricket fraternity thinking towards SLC. The cricket already had some of the best T20 leagues around the globe, like IPL, BBL, BPL, CPL. We can now add LPL also, in this illustrious list, Without a doubt!