After Cricket Age exposed his fraud on June 8, Bandula Samanwathuregama, a former employee of Sri Lanka Broadcasting Corporation (SLBC) has finally reached at stadium on Tuesday to provide live web radio commentary for Sitha FM and Sri Lanka Cricket Board (SLC).
"Samanwathuregama was in stadium with his colleagues – Jaliya Samantha, Priyantha Udayaratna and two others. It seems after his wrongdoings were exposed, his Bosses instructed him to provide web radio commentary from the ground, instead of by sitting in front of TV in a house in London and Birmingham" Milan Gupta, Cricket Age correspondent, Who is covering all world cup matches, reported from the ground.
Moreover, in order to show the people's, after his wrongdoings were completely exposed, Samanwathuregama along with his colleagues met legendary cricketers like Kumar Sangakkara and Sourav Ganguly and clicked photographs with them.
Later, Jaliya Samantha, one of Bandula's colleague, posted those photographs on his Facebook page. However, just after few minutes, he deleted all the pictures.
On June 8, Cricket Age had exposed Samanwathuregama for providing fake radio commentary for the Sri Lanka matches in the ongoing World Cup in England and Wales. A veteran commentactor, Samanwathuregama, with his four other colleagues, is providing radio commentary for Sitha FM, as well as for the Sri Lanka Cricket Board (SLC) web segment.
On June 8, When Cricket Age had inquired, One of the top official of SLC had confirmed that Samanwathuregama is in UK and is assigned to provide web radio commentary for the board. However, When Cricket Age inquired further with it's media sources, who are covering Sri Lanka's World Cup matches, it learnt that neither Samanwathuregama nor his colleagues were present in the media box during any of the last three matches that Sri Lanka has played so far.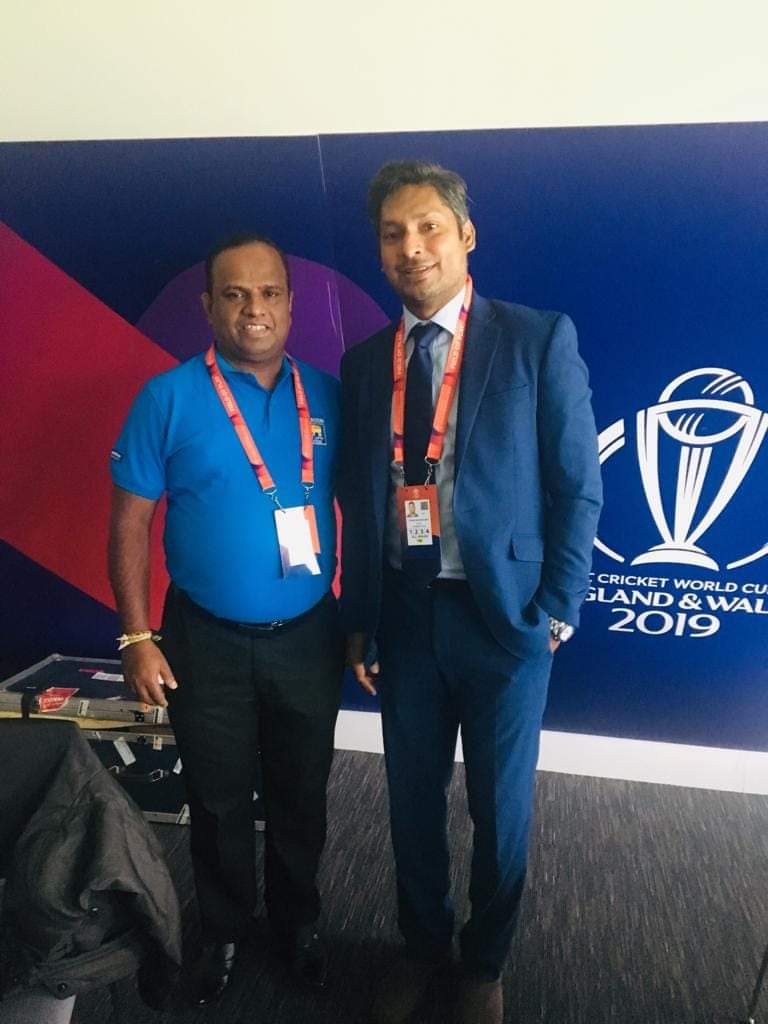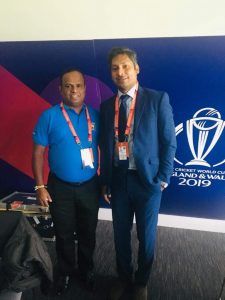 Reportedly, instead of providing web radio commentary from the ground, Samanwathuregama is staying in a house in London and Birmingham and doing commentary by sitting in front of a television set.
Earlier too, Samanwathuregama manipulated big time while ensuring web radio rights in favor of Tilakwardena Textiles. According to sources, SLBC also tried to get web radio commentary rights from the International Cricket Council (ICC). However, due to high bid (One million rupees per match) SLBC had to pulled out, even though as per the Sri Lanka's cabinet approval the government institution must get priority in allocating telecast rights. Eventually, Tilakwardena Textiles got the web radio rights and they sold it to Sitha FM.
The real game, however, took place after this! The veteran commentator brought Sitha FM on board for the 9 Sri Lanka's World Cup matches. For that SLC approved staggering 15 million rupees.
Cricket Age has the access of SLC management committee document that reads:
"Upon consideration of the submission made by the Chief operating officer (Jerome Jayarathne), the committee recommended the allocation of a supplementary budget of Rs. 15 million for the purchase of media rights including but not limited to radio, web, streaming etc for the World Cup 2019 under guidance of the world cup committee."
However, even after getting a staggering budget of 15 millions, Samanwathuregama and his colleagues were not seen in the media box for any of the match so far! According to sources, while doing the commentary by sitting in front of TV, samanwathuregama was using recorded crowd sound to fool the cricket loving public.
Other notable thing is that Sitha FM is being operated from a small room in Colombo and majority of Sri Lanka public could not get the access of it as well.
In past, Samanwathuregama provided the same sort of radio commentary to SLC through RASA FM during Asia Cup and Sri Lanka's Lahore match last year.
It is also noteworthy that few years ago Samanwathuregama had been suspended by SLBC for alleged financial irregularities. During one of Sri Lanka's UK tour in past, he brought one of his friend by making him official scorer. That official scorer is yet to return to Sri Lanka after so many years!