Started way back in 2006 with only 30 odd students, today the school cricket Academy at prestigious Sinhalese Sports Club (SSC) is shaping more than 300 young prodigies under the wings of stalwart Carlton Bernadus
These Day it's festival like atmosphere at SSC. The school cricket Academy is celebrating the cricket festival and matches are being played every day in a carnival like atmosphere.
The teams, of under 10, 12, 13, 15 and over 15, are playing matches and the parents, relatives of the young prodigies are clapping and cheering for them. One can see happiness, joy, excitement in their eyes, as they sees their children's area playing at iconic SSC turf, one of the best in the world!
The main in command is Carlton Bernadus! An old stalwart, he is the incharge and head coach of the academy. He is as active as ever, overseeing every single aspect and making sure that everything goes smoothly.
Once, he was the head of cricket operations/head of domestic cricket at Sri Lanka Cricket Board (SLC). But, people's, who doesn't like to see Sri Lanka cricket prospering and moving into right direction, conspired against him and closed the doors of the board for him. But, his dedication to bring Sri Lanka Cricket glory back is still there. So, now, he is shaping future!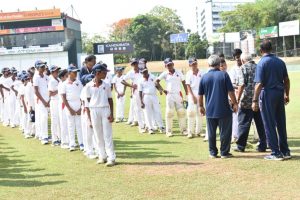 Carlton proudly stated that the SSC Cricket Committee headed by Samantha Dodanwela and the members Mahinda Halangoda and Michael de Zoysa (another stalwarts of the club) gave him all the support to ensure that the juniors are well looked after. Further, he said that the Executive Committee of SSC headed by Tommy Ellawela was an inspiration and gave the Academy its fullest support and the ExCo backed them to the hilt in all initiatives with the clear intentions to provide facilities towards the youngsters.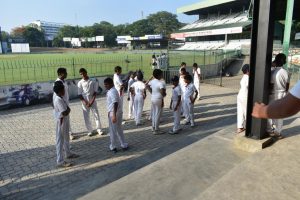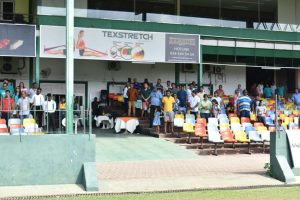 Apart from Carlton, there are few more pearls, who are giving their best to nurturing future prospects.
D.D.P. Alwis – The deputy to Carlton, he played first eleven cricket for Dharmaraja from 1964 to 1968. Alwis has been in this academy long before Carlton took up the reins. According to Alwis, this academy was started in 2006 with only 30 odd students and then it was run by the late Ranil Abeynaike who represented Sri Lanka as a left-arm leg-spinner. The academy Now has around 300 students, and they have teams in the following categories – under 10, 12.13, 15 and over 15. Alwis is as fit as a fiddle, and noted that Kusal Mendis, Sadeera Samarawickrama, Jehan Daniel were amongst few famous names that went through their coaching.
Chinthaka De Silva – He played for D.S Senanayake alongside Aravinda DE Silva and Hashan Tillakaratne. He was proud that his son could play at SSC which was almost a hallowed ground to them in their days. He also stressed the fact that in this academy boys has the advantage of direct connection to the Sinhalese Sports Club team provided they had the talent.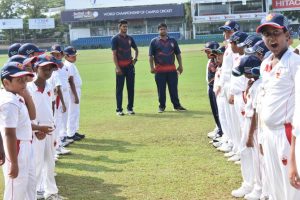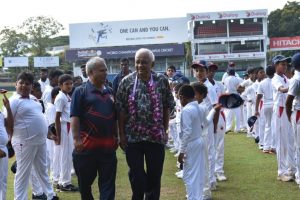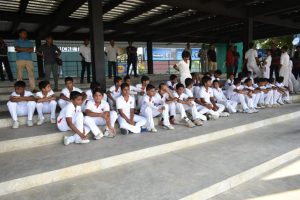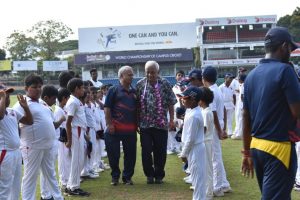 The academy is prospering by each passing season. A proud Carlton informs that now the academy is open for foreign students from England, Australia, India as well.
In coaching and administration alike, he is a legend! He has given almost a decade to develop Bangladesh cricket infrastructure, and coached prestigious Colts Cricket Club as well. One of the all time finest cover point fielder ever produced in Sri Lanka, now he wants to uplift Sri Lanka cricket amids all the odds.
On 12th May, the final will be played and Carlton assures that it will be a full house! There are plenty of people's, whom sole aim is to make money out of Cricket. Carlton Bernadus is making Sri Lanka cricket future more bright!