Thilanga Sumathipala, the former controversial president of Sri Lanka Cricket Board (SLC) has always claimed that he has no direct or indirect involvement in his family's betting and gaming business. First time ever, Now, Cricket Age is exposing the truth of Sumathipala's family betting business. At least now, Will the International Cricket Council (ICC) take the necessary steps to stop his two decade long interference in Sri Lanka Cricket?
Thilanga Sumathipala, the so called Messiah of Sri Lanka Cricket, embroiled in a massive controversy on Sunday, after claiming to attend an International Cricket Council ( ICC) meeting. Sumathipala Camp didn't waste much time in circulating photographs on social platforms with ICC chairman Shashank Manohar and other top officials. Further, later in the day SLC also comfirmed it by issuing a media statement, stating that Sumathipala participated in the ICC Board meeting along with SLC President Shammi Silva and secretary Mohan De Silva.
It was a shocker, not only for Sri Lanka Cricket, but for entire cricket world! How come Sumathipala attend the ICC board meeting? After all, just barely few weeks ago, he could not contest for the SLC election even, due to his involvement in his family betting and gaming business.
Then, suddenly, how he became eligible to attend ICC board meeting? Everyone was wondering, scratching heads. There were thousands of posts on Twitter and other social sites, asking ICC to clarify on Sumathipala's participation.
A day later, after Cricket Age exposed the truth of Sumathipala participation in ICC board meeting on Sunday itself, the governing body officially confirmed that the former SLC President didn't take part in any of the ICC meeting.
"Mr. Sumathipala was not present at the ICC board meeting, SLC was represented by Shammi Silva. Although, I understand he (Sumathipala) was in Dubai, but he did not attend or participate in any ICC meeting" a top ICC official had confirmed Cricket Age.
In reality, even during his previous tenure at SLC as President, Sumathipala could never attended ICC meetings, due to his alleged involvement in his family betting and gaming business. He had always skipped ICC meetings and used to send other SLC officials to attend the meeting.
However, there were no proofs or documents to prove Sumathipala's involvement in his family betting and gaming business through the outlet named Sporting Star.
That's why, Cricket Age had entirely focused on getting the documents first, that can prove to the world, that amongst all cricket playing nations, Sri Lanka is the only country, where those people's are running the show, who are directly or indirectly involved in betting and gaming business.
At last, Cricket Age managed to decode the mystery and the facts are shocking.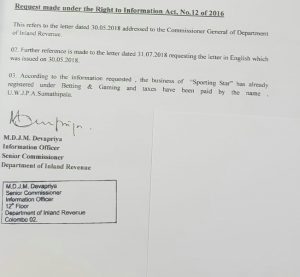 Have a look on those facts first, which are based on documents :
1. Cricket Age has the access of the document of Sri Lanka's Department of Inland Revenue, that says that the business of 'Sporting Star' has registered under betting and gaming and taxes have been paid by the name of U. W. J. P. A. Sumathipala (Jagath Sumathipala, the elder brother of Thilanga).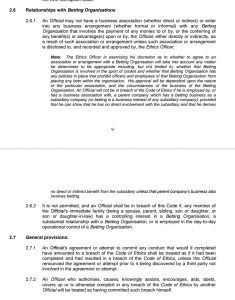 2. Now, this is what ICC Code Of Ethics Says on this : effective from 10th May 2017, the clause number 2.6.1 of article 2.6 under the heading "Relationship with betting organisations, reads as follow :
"An official may not have a business association (whether direct or indirect) or enter into any business arrangement (whether formal or informal) with any betting organisation that involves the payment of any monies to or by, or the conferring of any benefit(s) or disadvantage(s) upon or by, the official, either directly or indirectly, as a result of such association or arrangement unless such association or arrangement is disclosed to, and recorded and approved by, the ethics officer."
2.6.2 – it is not permitted, and an official shall be in breach of this code of, any member of the official's immediate family (being a spouse, parent, sibling, son or daughter, or son or daughter-in-law) has a controlling interest in a betting organisation, a substantial relationship with a betting organisation, or is employed in the day-to-day operational control of a betting oorganisation.
(Jagath Sumathipala is the elder brother of Thilanga, and as document proves, he pays taxes for Sporting Star, which is registered under betting and gaming)
With this document, and with the ICC code of ethics, it's quite evident that Sumathipala is not eligible to contest for any post at SLC. Interestingly, Sumathipala himself knows it, that's why he withdrew from recently concluded SLC election.
However, the worrying fact for the ICC is, that still he is running the show, as his recent Dubai visit proved.
When it became apparent that he would not be able to contest, Sumathipala planted his dummies for the SLC election. From the back door, he was controlling everything even during the election campaign. Now, Shammi Silva, One of his closest, has become the president of SLC. ICC needs to realize that Shammi Silva's father Piyasena De Silva was the manager of Sporting Star!
As soon as Shammi Silva won the election, Sumathipala again took over the charge at SLC.
Now, just see these two photographs :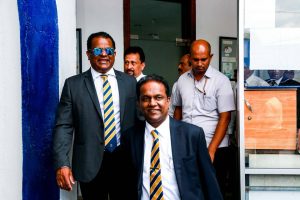 In first photograph, released by SLC itself after Shammi Silva won the election, Sumathipala is standing like a real boss. While, Shammi Silva is standing like a loyal commerade.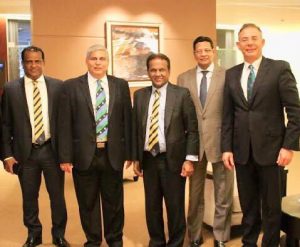 In the second photograph, again released by SLC, after board so called delegation meet with ICC Officials, Sumathipala has again taken over the dominant position, while Shammi Silva is standing like a loyal commerade.
That's how, Sumathipala fooled ICC. That's how Sumathipala made ICC a laughing stock in world Cricket. He could not contest the election, but he is still running the show! He is still in the SLC executive committee! There is no Sumathipala as SLC President. But, now there is Shammi Silva! So, there is no sense if ICC talks big about corruption.
The picture is quite simple. Stopping Sumathipala from contesting the SLC election is not going to work, either for Sri Lanka Cricket or for ICC. If there is a problem, ICC needs to cure it! Right now, the sad truth is that when ICC must focus on revealing the dark truth of Punchi Borella, they are going mad over Matara!