The attempted fraud by three employees of Sri Lanka Cricket Board (SLC) has been fast becoming the most talked about controversy in the cricket fraternity. After, SLC CEO Ashley De Silva stated on Thursday that one of the suspect had worked at former board President Thilanga Sumathipala's family owned Sumathi group, his family's newspaper Lakbima tried to deny the allegations.
"SLC decided to recruit a head of finance and to select a suitable candidate the task was assigned to the recruitment co. Management Systems Ltd (MSL). the MSL has called for applications from suitable candidates in newspapers and websites and it was not mentioned anywhere that the vacancy is for SLC. The final candidate selected by MSLwas forwarded to SLC for approval. Finance committee, management committee and EXCO of SLC approved the said candidates recruitment" the Lakbima newspaper stated.
However, Now, it has emerged that another suspect of the attempted fraud has also worked at Sumathi group.
That suspect, who was working as accountat at SLC till now, had worked at Sumathi group few years ago as assistant director tax and planning.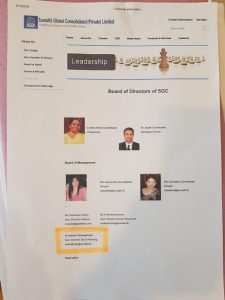 SLC CEO Ashley De Silva, on Thursday, also accepted that one of the key suspect of this attempted fraud was earlier associated with Sumathi group as an employee.
"One of the suspect was working at former SLC presiden's group of companies. However, before recruiting him, we checked all the details and hired him through the process" Ashley De Silva told reporters.
It is noteworthy, that Sumathi group is owned by former SLC President Thilanga Sumathipala's family.
The money was due from Sony Television who bought the rights to telecast England's tour of Sri Lanka starting next month.
The key suspect is said to be the man in charge of finances at Sri Lanka Cricket. He has already been sent on leave pending investigations by the CID and FCID.